artist, collaborators, team & partners
Yee I-Lann (born 1971) lives and works in her hometown Kota Kinabalu. I-Lann has also worked in art department and as a production designer in the Malaysian film industry. With her partner, rock 'n roll subculture archivist, musician and designer Joe Kidd, she shares KerbauWorks, a cross-discipline project label and space. She is currently a Board member of Forever Sabah and a co-founding partner of KOTA-K Studio in Tanjung Aru Old Town, Kota Kinabalu.
She has held solo exhibitions in Kuala Lumpur, Singapore, Manila, Taipei, Adelaide, New York and Dallas, including a major presentation of her work at Ayala Museum, Manila in 2016, and participated in international exhibitions since the 1990s. Recent participations include: Looking for Another Family: 2020 Asia Project (National Museum of Modern and Contemporary Art, Korea); Asian Art Biennial: The Strangers from beyond the Mountain and the Sea (2019), touring exhibition Sunshower: Contemporary Art from Southeast Asia 1980 to Now (2017-2020) and BODY/PLAY/ POLITICS (Yokohama Museum of Art, 2016).
This year, CHAT (Centre for Heritage, Arts and Textile) Hong Kong will be holding a solo showcase of her work from August to November, and she will also be participating in the Our Best Interests: Afro-Southeast Asian Affinities during a Cold War (Vargas Museum, Manila) and the inaugural Indian Ocean Craft Triennial.
Download her full bio here: Yee I-Lann Bio & CV May 2022
I-Lann with Julitah Kulinting and Roziah Jalalid at KeTAMU, 2019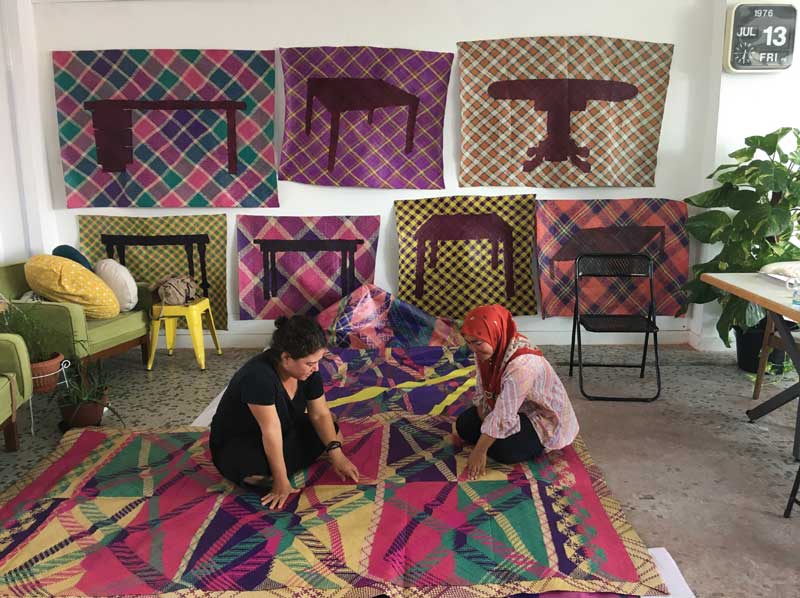 I-Lann with Roziah Jalalid at Kota-K Studio, 2018
collaborators, team & partners
Bajau Sama DiLaut weavers (left to right) Kak Kinnuhong, Adik Erna, Kak Kuluk, Kak Roziah, Adik Norsaida, Adik Kinindi, Kak Goltiam, Kak Sanah, Kak Anjung, Kak Budi, Adik Koddel, Adik Darwisa (Photo: Andy Chia Chee Shiong)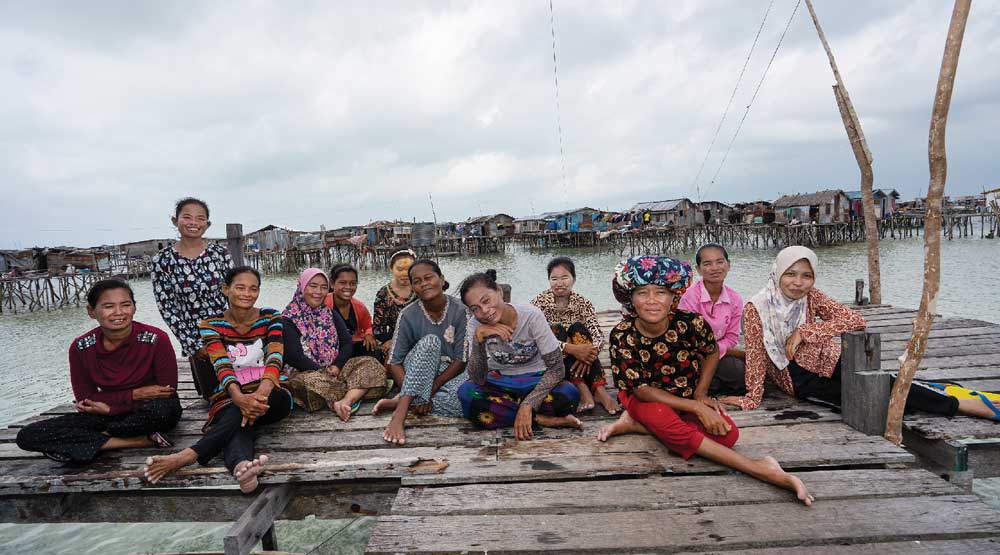 Dusun and Murut weavers Juraen Sapirin, Siat Yanau, Julitah Kulinting, Zaitun Abdullah Hairun, S. Narty Abd. Hairun, Julia Ginasius, Lili Naming, Mohammed Shahrizan Bin Juin (left to right) with Yee I-Lann (centre) (Photo: Pusat Kraftangan Sabah)

Tagaps Dance Theatre with Al Hanafi Juhar and Candy Yik of Huntwo Studios, Isaac Collard and Emily Chin of Third Rice Culture, and Yee I-Lann (Photo: Isaac Collard)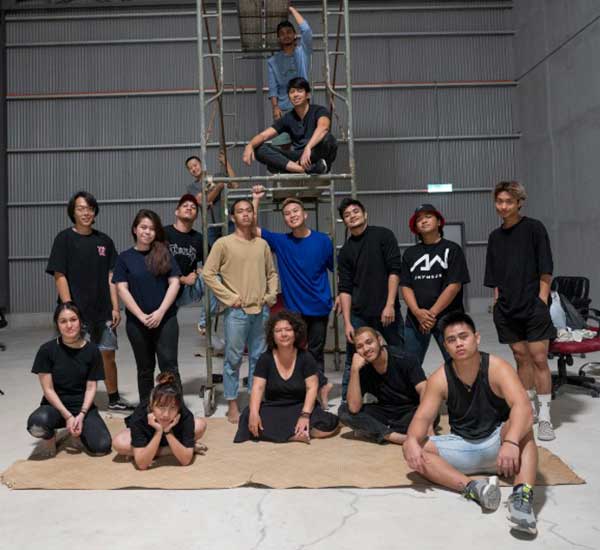 Julitah Kulinting, S. Narty Raitom, Julia Ginasius, Hollyvia Kimin, Lili Naming, Siat Yanau, Shahrizan Bin Juin, Zaitun Raitom, Juraen Bin Sapirin, Johin Endelengau
Adik Aline, Adik Alisya, Kak Anjung, Makcik Appey, Adik Anneh, Adik Asima, Makcik Bagai, Abang Barahim, Kak Bedihing, Makcik Billung, Makcik Bobog, Makcik Braini, Kak Budi, Makcik Burah, Kak Daiyan, Adik Darwisa, Adik Dawing, Adik Dayang, Adik Dela, Kak Ebbuh, Kak Endik, Adik Enidah, Adik Erna, Kak Indah Jariah, Makcik Indah Laiha, Makcik Gangah, Kak Ginnuh, Kak Gultiam, Kak Kanuk, Kak Kenindi, Kak Kinnuhong, Kak Koddil, Makcik Kuluk, Kak Kuoh, Abang Latip, Makcik Lokkop, Adik Lornah, Kak Norbaya, Kak Norsaida, Makcik Rerah, Kak Roziah, Kak Runggu, Kak Sanah, Kak Sitti Rasun, Kak Solbi, Kak Sulman, Kak Turuh, Adik Tasya, Abang Tularan
DeeBee Studio/Schizo Stars, Andy Chia Chee Shiong, Borneo Demand Productions, Chris Tan; Suara Community Filmmakers, Nurul Isma bt Mansula, Masmera bt Hajih Jimlan; Severinus Gimit; Mohd Asraffirdauz Bin Abdullah
Tagaps Dance Theatre, Mohd Azizan Danial Bin Abdullah, Jay Adner James, Carey Didier Chin, Mohd Hairul Azman Peter, Addam Jesley, Shahhijjaz Khan, Mohd Nazri Adam, Earl Steiner, Joanne Dayang, Athina Padua; Huntwo Studios, Al Hanafi Juhar, Candy Yik
Third Rice Culture, Kenneth Lo Wei Jun, Isaac Collard, Jan Johan, Emily Mary Chin
E Photo Media, Sohphee Ng, Mr Ng Kim Hock
Bev Joeman, Loriot Moujing, Didy Maison, Charles Darwin
KerbauWorks, Persatuan Wanita Pulau Omadal (WAPO), Hensleman Maturine Abem, Miki Embroidery, Charlie Chin, Melanie Chu, Petrus Chia, Sandra's Concept, Linn Yong, Lilly Toppers Tailor, Beras Wagas Dati
PORT Ipoh, Harold 'Egn' Eswar, Samad Hassan, Zuber Sunario, Jimmy Satan, Nelson Dino, ANAK, Anne Baltazar, Valerie Vanessa
The Factory @ Inanam, Golden Frame Trading, AMF Resolution, Tony Chia, Genesis Media Design, Sounds Tech Production Sdn Bhd
Dennis Chan (DNN Enterprise), Zulkifli bin Abdul Hamid, Zella Rocks, Santo – Jethroés, Cameliah Thomas
Amy Dangin, Melvin Sebastian, Adam Gontusan
Flanegan Bainon (Hinava Media)
Dewan Bandaraya Kota Kinabalu, Puan Mayor Noorliza Awang Alip, Puan Junainah Abbee, Fauziahton Ag Samad, Lizawana Martin, Nor Sarahana Zakaria
KOTA-K Studio, Filzah Jam Jam, Phyllis Chin
KeTAMU, Sue Chong-Hartley, Stella Tay, Winnie Long, Cynthia Ong, Katrina Ong
Sabah Art Gallery, Sabah Cultural Board, Jennifer P. Linggi, Eva Anani Baggai, Sara Elisya Ahmad Shah, Siti Aminah Roslan, Dayang Hafsah Abdul Nami, Juriah Limpur, Zunairah Abd. Malik, Intan Munirah Hamzah, Rosnie Veronica Sabung, Renee Joseph, Norsarina Jamateh, Martina Monuit, Ahmad Sharil Salleh, Jacklis Gusting, Medi Lambahid, Joas Tumuuh, Jainin Pedin, Julin Dau, Sharoon Mohammad, Didon Boilil
Sabah International Convention Centre, Datuk Hajah Rosmawati Haji Lasuki, Tristan Delomenie, Tina Goh, Arlene Michelle, Alexandra Chin, Susan Magalob, Michael Jeoffrey Junior, Farhana, Engineering Team
RogueArt, Beverly Yong, Rachel Ng; Venice Foo Chau Xhien; Joe Kidd
Silverlens, Isa Lorenzo, Rachel Rillo, Erlyz Santos, Arielle Acosta
CORE TEAM & PARTNERS

Exhibition partners: SILVERLENS, Sabah Art Gallery, Sabah Cultural Board
Venue partner: Sabah International Convention Centre
Curatorial and project management team: RogueArt
Ground co-ordinator: Venice Foo
With thanks to: KerbauWorks, Kota-K Studio, KeTAMU
Audiovisual support: Third Rice Culture
Graphic design & website: Joe Kidd (KerbauWorks)
Borneo Heart is produced by Yee I-Lann